Interior Appeal – Preparing for Successful Showings with Interior Revision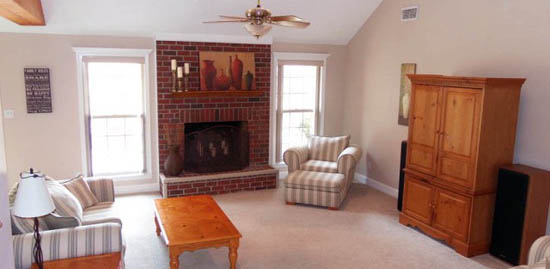 When you are trying to sell your house, the first thing you should always do is work on your home's curb appeal. While this is ultimately the most important thing to pique potential homebuyer's interest (as well as selecting a good REALTOR® who can get the job done quickly), once a buyer walks through the front door, the appeal of the interior becomes just as important. Home shoppers want to see an uncluttered, well kept home that could easily be modified to suit their tastes and lifestyles.
Interior appeal is something that can be created easily with a little bit of forethought and minimal expense. Although potential buyers are essentially looking for four walls and a roof, first impressions are everything. They must be comfortable touring your home to be able to see past the present and envision their future in it.
The first area you need to focus on is general upkeep. Take a walk through your house and note the things that stick out as looking worn down. Shampoo the carpets thoroughly and if the paint on the walls is starting to look less than fresh, now is the time to make the trip to Home Depot to pickup a couple of gallons of interior paint. Stick with bright colors – they make rooms look bigger and won't offend anybody. The bright orange and purple polka dotted room that you saw on Trading Spaces last week probably won't win any hearts. This principle also applies to brightly colored decorations such as pictures or wall hangings. Fix any minor items that would fall into the "honey-do" list such as loose moulding, drywall gouges, broken or missing switchplates, etc.
Next, focus on the mechanical items in the house such as doorknobs, appliances, and fixtures. Loose doorknobs, squeaky hinges and dripping faucets give off an aura that could cause a buyer to think that the house has been neglected. Any major deficiencies such as gas ranges that spit flames or broken attic stairs should be fixed now. These type of things will almost always be required to be repaired by the appraiser when you do find a ready, willing and able buyer and taking care of them ahead of time will not only make the house show better, but will also prevent the eleventh hour repair marathon from holding up your closing. Take a look around the DIY: The Do It Yourself Network if you need any advice on how to repair some of these items.
After all of the hard work is done, it's time to do some spring cleaning. You want to make your family look like direct descendants of Martha Stewart herself. Clutter turns off buyers and will keep a house from showing well. Pickup and organize smaller items that typically just lay around. Remove as many small plugin appliances from the kitchen counters as possible. Organize your garage and closets. You might want to consider a garage sale to rid yourself of some of the extra clutter – not to mention that it is a great way to get out the word that your house is on the market. You may even get a couple of people that want to look at the house while they are there, so be sure that you have at least picked up a little bit before the sale starts.
With a little bit of work and some objective observation, your house is capable of impressing even the most hard to please buyers.